About Megan Bierman
Megan Bierman is a multi-disciplinary improviser who energetically creates through music, dance, drawing, painting, and storytelling. She incorporates these elements into her innovative work with pre-school children at Buen Dia Family School in San Francisco where she has been an artist-in-residence for 27 years. Her work with children can be seen in Buen Dia's documentary, This School Is For The Children. Her recent recordings of children telling their stories can be found in the Sound section.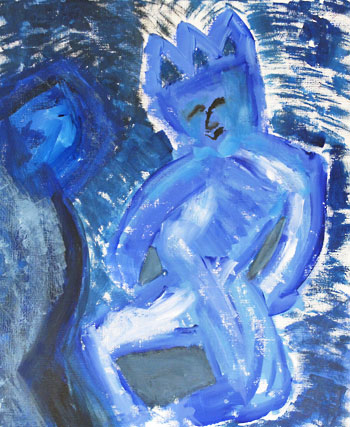 Megan received her Masters of Science in Education from Bank Street College in 1998. The program was Supervision and Administration in the Visual Arts with studio work at Parsons School of Design. She studied drawing with illustrator, Warren Linn, who greatly influenced her decision to become a visual artist. Megan exhibits in her studio, 24th Street Theater Works, in San Francisco's Mission District. Various series of her work are available for exhibit in public spaces upon request.
Megan attended Bennington College from 1968-72 where she studied and danced with the ground-breaking improvisational Judith Dunn - Bill Dixon Dance Company. The roots of her collaborative work with her partner, John Gruntfest, stretch back to the 1970's when fellow Bennington dance graduate, Laurel Sprigg invited her to collaborate on Megacycles, with Gruntfest and Joe Sabella. Megan and John's paths crossed again in 2000. They have been collaborating artistically since that time. Their most recent performance work together was at the Improvisation Summit of Portland, in June 2012, where they collaborated on a big band project, The Raven Big Band Buddha Mind Ensemble, with members of Portland's Creative Music Guild. Their partnership continues to be expansive and a lot of fun. Many of their recordings are in the Sound section of this site and on the Raven Free Orchestra website.
As an improvising performer, Megan draws from both her music and movement vocabulary to express what arises in the present moment. When performing, she enjoys having the facility to move fluidly between the saxophone, her body, her voice, whistles, and percussion. She has been playing tenor saxophone for 40 years and continues to enjoy the daily practice of exploring the horn.
Another fun chapter in her work as a performing artist was in the 1980's when Megan and Sally Davis became The Echo Sisters, a dynamic musical storytelling duo that for seven years created raucous, hilarious, participatory performances of trickster tales and performed them in schools, libraries, community centers, and festivals throughout the San Francisco Bay Area and Colorado.